TedMet; The Versatile Solution
Our production facilities boast many impressive features, each expertly-engineered to perform a variety of new and improved functions. One of these functions is the reliable, consistent production of TedMet, one of the innovative products developed by BS Stainless in partnership with Sheffield Hallam University.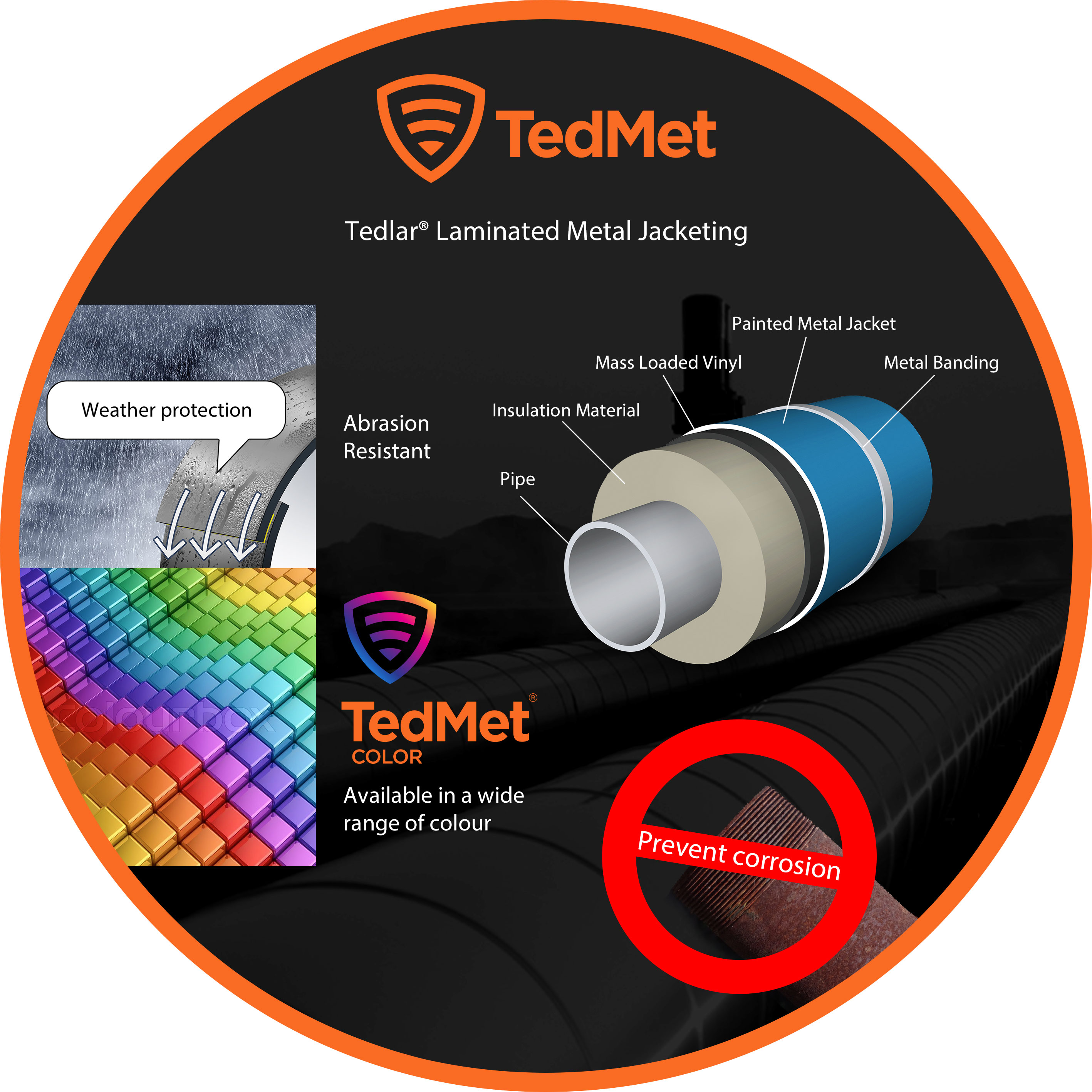 TedMet followed quickly on from CoolMet, our revolutionary PVDF paint system that gained instant favour within the LNG industry upon release. By strongly resisting corrosive attack and reflecting heat away from vital pipelines in an extremely efficient manner, CoolMet improves both the function and longevity of such pipes, representing considerable savings in environmental disturbance, employee safety and financial expenditure.
Though CoolMet is of immense strength and robustness, it is still not quite tough enough for the most heavy-duty applications and demanding environments. Pushing the boundaries even further, we designed, fabricated, tested and optimised TedMet - metal that has been factory-applied with Tedlar® Polyvinyl Fluoride Film (PVF) created by DuPont™. Tedlar® is highly-regarded for its continued unhindered performance in the harshest, most corrosive of environments - the material is commonly used in aerospace and photovoltaic cell manufacture. Its also the coating of choice for LNG cladding for engineering giant Bechtel.
Our new production facilities allow us to quickly and reliably join DuPont™ Tedlar® to a range of metals including standard stainless steel and now aluminium as well. Uniquely though we can simultaneously apply both Tedlar (TedMet) to the top surface and Surlyn (DryMet) to the reverse. Our advanced production line means we are the only company in the world with this capability. It can also be applied with a mass loaded vinyl to the reverse of the meal to meet specifications such as Wheatstone LNG. TedMet is initially targeting demand from metal jacketing insulation applications though other uses include:
Aerospace - design flexibility when producing passenger areas within aeroplanes and other airborne craft. Combining aesthetic and tactile appeal with resistance to scuffing and staining, the PVF can be printed on or embossed for complete individual style. The newest Goodyear blimp utilises Tedlar® in its construction
Architecture - the perfect material to protect architectural substrates, Tedlar® will strongly resist weathering - no more fading, cracking, corroding & moulding. With the launch of TedMet colour their is a full range of options to meet aesthetic demand.
Power - Tedlar® resist chemical attack and high temperature and so can be used safely in high-voltage applications and solar panels
Processing - PCB (printed circuit board) manufacturers can dramatically increase press temperatures, reducing the number of production cycles and optimising output to suit aesthetic tastes & comply with a colour-coding scheme, Tedlar® can be supplied in any of 26 colours from the three available sections - Cool, Neutral and Warm. A further 'Choice' section lists those colours that have the most generous minimum-order requirements and the shortest lead-times.
TedMet joins our range of other new products including CoolMet, DryMet and SoundMet, making us the only company on the planet to offer a complete metal jacketing solution that meets all needs - we even supply the tools, fixings and accessories.