The Best Banding Solutions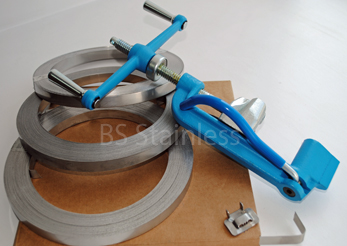 The rigours of supporting metal insulation jacketing, often in challenging environmental conditions, need to be met with a strong, reliable and efficient product; stainless steel banding admirably answers the call, delivering a powerful fixing solution where it's needed most. We supply stainless steel banding of superior quality, manufactured on one of our three modern, carefully-maintained production lines and available for immediate delivery.
Some metal jacketing insulation systems have been secured using screws or rivets. Whilst these do provide a secure fixing, they pose the risk of damaging the insulation material and allowing water ingress; this can lead to Corrosion Under Insulation (CUI), a damaging problem which is dangerous, costly and time-consuming to repair. Stainless steel banding negates the problem completely and offers:
Adaptability; use stainless steel banding equally well with all types of jacketing materials including aluminium and Aluzinc. Choose from a rainbow palette of colours to meet colour-coding requirements or simply to provide a pleasing visual. A wide range of metal grades is available along with a comprehensive size choice and bespoke orders are our speciality
Operator Safety; our stainless steel banding is available with the dangerous burr completely removed from its edges, known as edge dressing. This dramatically improves safety during installation. Productivity is also improved as the job can progress much quicker, especially when handling delicate materials
Convenience; our stainless steel banding solutions are designed to meet your requirements, whatever they may be. We produce long rolls which are efficient as an alternative we can supply short rolls in 100 feet (30.5m) and 200 feet (61m) designed to be easy to handle and extremely lightweight. All banding can be supplied in boxes or shrink-wrapped to your preference, packed on suitable pallets such as ISPM15 for export regulations.
Fast Deliver; whether you are just round the corner or thousands of miles away, we can get your products to you without delay. We can arrange site-specific loads (including packaging) and guarantee to reduce your downtime to an absolute minimum. Or we can send one roll of banding by courier.
Our range of stainless steel banding and accessories is hard to beat so check out the collection and see for yourself!